[ Home ] [ HISTORY ] [ MSN Member State/Tribe ] [ International Recognition ] [ United Nations ] [ Indian Country ] [ espanol ] [ exiles ] [ First Miccosukee Seminole Newspaper 1961 ] [ Havana Post ] [ Site of the Legal Counsel ] [ MSN Hall of Fame ] [ MSN Hall of Shame ] [ Become an Affiliate ] [ MSN Legal Counsel ] [ Sovereignty Defined ] [ Miccosukee Prophesy ] [ MIA ] [ International News ] [ LETTER2USCOURTS ] [ To US Presidents ] [ Letter to American Public ] [ Important Notice to MSN Viewers ] [ TheVillagePost ] [ CULTURALARCHIVES ] [ NO MONEY ] [ MiccosukeeLaw ] [ terms ] [ copyright ] [ privacy ] [ ELECTION NOTICE 2009 ] [ mitchelvsus ]
---
Welcome to
Miccosukee Seminole Nation
LINKS EXCHANGE PROGRAM
(A free service)
---
The Miccosukee Seminole Nation Department of Information has launched the newly instituted Links Exchange Program, a free service. The nation is interested in affiliating with web sites that are authorized for the purpose of our constant search and dissemination of historical and current truths as it represents and affects the Miccosukee Seminole nation and its interests.
The nation does not charge or pay to share reciprocal links. The traffic we send and receive is payment enough.

A list is currently being compiled which will be on our newly instituted, Miccosukee Seminole Nation (MSN) NOTABLE LINKS Page for the following approved World Wide Web resources.

Subject to the board's approval, applicants will be considered in the following categories:

(1) Other nations, or their agencies
(2) Responsible historians
(3) Responsible or friendly news media
(4) Serious students
(5) Qualified, and/or friendly educators
(6) Responsible organizations dedicated to the protection and respect for national sovereignty, Freedom, independence, human and other indigenous rights.
(7) Search Engines
Below we have provided a lightweight GIF for use as a link from your site to ours. Of course you do not have to use the GIF, we simply wanted to save you time and work. When you publish the link, e-mail us: DOI@MiccosukeeSeminoleNation.com. That way we can make sure to include your link on our Miccosukee Seminole Nation (MSN) NOTABLE LINKS pages.
YOUR LINK TO US SHOULD POINT TO http://WWW.MiccosukeeSeminoleNation.com
Help us link to you by sending an e-mail with your site URL along with a few lines of copy and a logo or small GIF if available. Please provide us with the URL where we can find it. Note: we do not link to pornography sites!


Miccosukee Seminole Nation affiliate logo

(optional)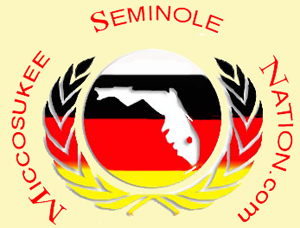 Don't forget to send us the information pertaining to your site.